Frequently Asked Questions
Here we've collected the most common questions. If you don't see the answer you seek, email info@bottlemark.com and we'll be happy to help.
The Questions
The Answers
When will I get my order?
Orders are first-come, first-served, and while we go as fast as we can, we have limited production capacity. Usually we ship in a few business days, but in some cases it may take a week or two before we ship. December is always our busiest season, so order holiday gifts early! Our front page features a current production estimate. Let us know your bottling or event date in the special instructions section of the order form, and we'll try to get it there on time. For home brewing, we recommend ordering when you start brewing to make sure you have your caps and labels before you want to bottle. Please see the production and shipping page for more.
Can I get my order faster?
There are two phases that take time—production and shipping—and you can speed up one, the other, or both.
Faster production:
Upgrade to Rush Production. We print on a first-come, first-served basis, but for a fee, we move your order to the front of the line. Select Rush Production at checkout.
Faster shipping:
Choose Standard shipping: Standard will deliver 1-2 days faster in the US than our Economy Shipping class; 1-2 weeks faster internationally. This is a small upgrade in speed.
Choose Express shipping: If you're in a serious rush, choose Express at checkout, and your order will get the fastest shipping. Combine this with Rush Production when you're facing a true custom cap emergency!
What is the status of my order?
You will receive an automatic tracking code email when your order ships. For registered users, your dashboard shows your orders and their available status; check there to see the details or shipping status of your order. For an estimate of shipping time, see the front page or email us.
Do you take PayPal?
Yes. We suggest automated checkout through our website since it's faster, but we can also send you a PayPal invoice. Email us to place an order via PayPal. Orders will be delayed as they must be manually processed.
Is there a minimum cap order?
Nope! You can order just one custom cap if that's what you need.
Is there a maximum cap order?
Not exactly, but larger orders do take more time to fulfill. Contact us if you want to order more than 2,000 caps, so we can talk bulk pricing and production schedule. See our bulk orders page. The digital print-on-demand process works best for orders under 50,000 caps.
How much does a custom cap cost?
See our prices page.
How many bottle caps should I order?
Most home brewers work in 5 gallon batches, which will fill 50-60 standard bottles. Lots of people (like us!) fill their carboys past the 5 gallon mark, and tend to end up on the high end of that range. We recommend 60-65 caps per batch so you don't run out and have a few extra for mistakes and souvenirs.
If you're doing a crafting project, get a few more than you need. Bottle caps are an industrial product, and do have occasional blemishes and defects.
What bottles can I use?
Use glass bottles specifically designed for 26mm crown cork caps. Our caps are ideal for beer bottles, but they are not "champagne-rated", so they may not be appropriate for larger champagne-style bottles that undergo higher pressure. Check with your bottle manufacturer if you're unsure.
Do your caps twist-off?
Our caps work best with pry-off bottles. Twist-off bottles don't produce good seals with the oxy-liners in our caps. Twist-off-ness is based on the bottle: if your bottle has threads molded into the rim, the cap will twist off once applied. Pry-off bottles have a thick single-lip rim.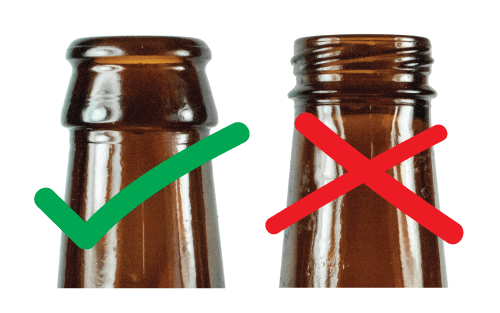 What cap colors are available? Can you make other colored caps?
BottleMark offers custom printing on a wide range of colors. See our upload tool for in-stock colors. While we can order a speciality color for you, note that the minimum order is 50,000 caps.
Do you sell oxy caps?
We sure do! All of our caps feature oxygen-absorbing liners. This type of liner eats up oxygen left in the bottle and works as extra-insurance against a bad batch. The liners are moisture activated, so be sure to sanitize your caps right before bottling.
Can you print on the edges or on the inside of caps?
Printing on the edges or on the inside of caps requires custom printing on flat sheets of steel first and then forming the sheets into bottle caps with liners. Sorry we're not that industrial!
Do you print on 29mm size crowns?
We do not stock the larger 29mm size cap, which is used on some rare champagne bottles. Our technique requires a special top coat from the factory to make our inks adhere, so we regret that we cannot print on your stock, either.
How do I sanitize custom caps?
We have tested Star-San, iodophor, bleach, and alcohol; they all work fine when used for the recommended short soak. We like Star-San best. DO NOT BOIL. Boiling can detach or distort the liners needed for a strong seal.
Is there a minimum label order?
Yes: 4 labels per design (equivalent to 1 sheet).
Is there a maximum label order?
Not exactly, but larger orders do take more time to fulfill. Contact us if you want to order more than 300 labels, so we can talk bulk pricing and production schedule. See our bulk orders page.
How much does a custom label cost?
See our prices page.
Can I mix and match label designs?
Yes, but you need to order each design in a multiple of 4.
What size are your labels?
Our labels are sized to 4-inches by 3.25-inches. You can design a landscape or portrait orientation.
Do you sell necker labels?
Yes. We include 4 free neckers on every set of labels: sized at 1.75-inch by 1.25-inch. If you don't want to design a separate necker, opt for our "Bottled On" neckers to write in a date for every bottle.
Can I reuse your labels?
Sort of. Our label material is designed for easy one-time application and clean removal. They stretch during removal, so keep your labels on the bottles if you want to reuse them. Our tests show you can sanitize your bottles without damage to the labels.
Can I write on your labels?
You can write on the label, but don't expect it to come off! BottleMark labels are designed to look uber-professional, so put what you want to say in the graphics instead.
Can I put my labeled bottles in a cooler?
Yep, our labels are waterproof!
Can I sanitize my bottles with the labels on?
We recommend sanitizing your bottles first, filling, capping, and then applying labels, but if you already have labels applied, you can sanitize your bottles without hurting the label.
What sort of image do I upload?
The online design tool accepts PNG, JPG, and GIF, the standard image formats of the web. Any graphics software will be able to output these. PNG is preferred since it supports transparency and preserves every pixel (unlike JPEG, which uses "loss-y" compression). If you have some other format and can't convert it, email us and we can help.
What size image should I upload?
For bottle caps, we recommend an image with at least 300x300 pixels (or 300 dpi). For labels, you'll want an image sized at least 1275x1050 pixels, including the bleed (or 300 dpi).
What do you mean by "bleed," "cut line," and "safe zone"?
When designing a label, these terms refer to how you should lay out your graphics for the best results. Bleed line represents the line you should extend background colors/graphics through to get a guaranteed edge-to-edge print. You'll want to design a 4"x3.25" label, center it, and then extend colors in all four directions to the size of 4.25"x3.5". Cut line is where the label will be cut: 4"x3.25". Safe zone is the area safe for all of your important images and text: 3.75"x3". Note that bottle cap designing does not include bleed, cut lines, or safe zones: our design tool is very accurately calibrated to print on bottle caps.
My order says "unsaved design." Is that a problem?
Our system automatically saves any custom design that you place in your cart, with or without a name. The design saving feature is for your convenience when ordering again. If you didn't save a design before putting it in the cart, we label it "unsaved design," but we print it just the same.
Can I include a gift message or gift receipt?
You bet! At the final checkout screen, you can add a gift message. The packing slip that comes with orders does not include prices.
How do I redeem a gift certificate or gift card?
During the checkout process you will have the option to add a gift card or gift certificate code to the order. It's a long code, so be sure you have every letter correct, including upper- vs. lower-case. For additional information, please visit: http://www.bottlemark.com/redeem
How do I change my password?
Log out and go to the "Forgot Password?" link. Enter your email address, and you'll get an email to reset your password.
How do change my email address?
Email us from the address you want to change from and let us know. If you no longer have access to that email address, we may ask some verification questions about your account so we know it's you.
---