EU customers: please note that your import rules have changed, and there is no more minimum-size exemption.
We are not collecting VAT, so you will be responsible to pay on receipt.
Digital Gift Certificate - $17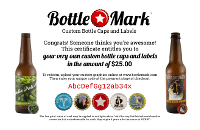 Gift a home brewer about one batch worth of caps, including shipping, or $17 worth of other BottleMark merchandise, including labels. We'll email you a printable gift certificate with code. (Processing of gift certificate-only orders is automatic and immediate; orders combined with physical items may require processing during normal business hours.)
The fine print: Value of card may be used for multiple orders. Valid for any BottleMark merchandise or services. Not exchangable for cash. May expire 5 years after issuance.