Wasteland Weekend! Bottle cap overload! Regular orders probably won't make it in time.
Use our rush production option at checkout for faster turnaround.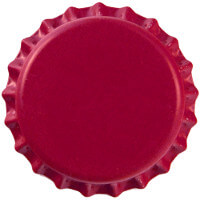 Plain candy apple red caps with oxygen absorbing liners. Sold by approximate count (we weigh them to count). Order any quantity; orders over several thousand may take some time. Same shipping rates as our custom caps.