Wasteland Weekend! Bottle cap overload! Regular orders probably won't make it in time.
Use our rush production option at checkout for faster turnaround.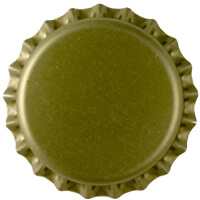 Plain gold caps; with liners but not suitable for brewing. (We have rejected this batch of caps due to quality control reasons.) But they're great for craft projects! Sold by approximate count (we weigh them to count). Order any quantity. Large but limited amount available. Same shipping rates as our custom caps.

We repeat: while these caps are lined, please use for non-bottling use only. They won't kill you but might leave your beer flat. And that's bad.